Monday 26th June 2017, NBA held there first ever NBA Awards at Pier 36 in New York City, hosted by Drake.
Overall, the show was pretty good for the first year, although I didn't agree with the performance of Nicki Minaj. Honestly, in my opinion the setting of the awards wasn't appropriate for the performance she had. The NBA presented awards for Most Valuable Player (MVP), Defensive Player of The Year (DPOY), Coach of The Year, Most Improved Player just to a name few.
On to the awards now. 
KIA Most Valuable Player – Russell Westbrook of Oklahoma City Thunder. Had to no other MVP for me, he was totally incredible this season. For the season he averaged 31.6 pts 10.4 assists and 10.6 rebounds per game. Westbrook became the first player since Oscar Robertson to average a triple-double per game for a season. On receiving his award he brought up his teammates present, started crying during the speech, had me crying, really deserved. To listen the speech, click here.
KIA NBA Rookie of The Year – Malcolm Brogdon of Milwaukee Bucks. Drafted at No.36 in the 2016 NBA draft, he became the lowest ever to receive this award. For this NBA season he averaged 10 points and 4 assists per game. 
KIA NBA Defensive Player of the Year – Draymond Green of Golden State Warriors. For the past two years he was nominated for this category, now he finally owns it. 
NBA Coach of The Year – Mike D'Antoni, coach of the Houston Rockets. He had an impressive run carrying the Rockets from a 41-win team now to a 55-win team in just one season.
KIA Most Improved Player – Giannis Antetokounmpo of Milwaukee Bucks.  He made history when he became the first player to finish in the top 20 in all categories which included steals, blocks, points, rebounds and assists. Truly one to look out for in the future. 
KIA NBA Sixth Man Award -Eric Gordon of Houston Rockets. He had a pretty good season, with shooting 37 percent from the 3-point line and averaging 16.2 pts during the 2016/2017season. 
NBA Executive of The Year – Bob Myers of Golden State Warriors.
Twyman-Stokes Teammate of The Year Award – Dirk Nowitzki of Dallas Mavericks. 
Lifetime Achievement Award – Bill Russell former player of the Boston Celtics. Nice to see them honoring legends while they are alive. 
NBA Sportsmanship Award – Kemba Walker of Charlotte Hornets. "My parents raised me to be a certain way, to carry myself a certain way, so I do my best to represent them"  – Kemba Walker
Sager Strong Award – Monty Williams. He gave such an emotional yet inspiring speech. 
Best Style – Russell Westbrook of Oklahoma City Thunder. Now we know this guy has all sorts of fashion sense, ain't no other credible winner.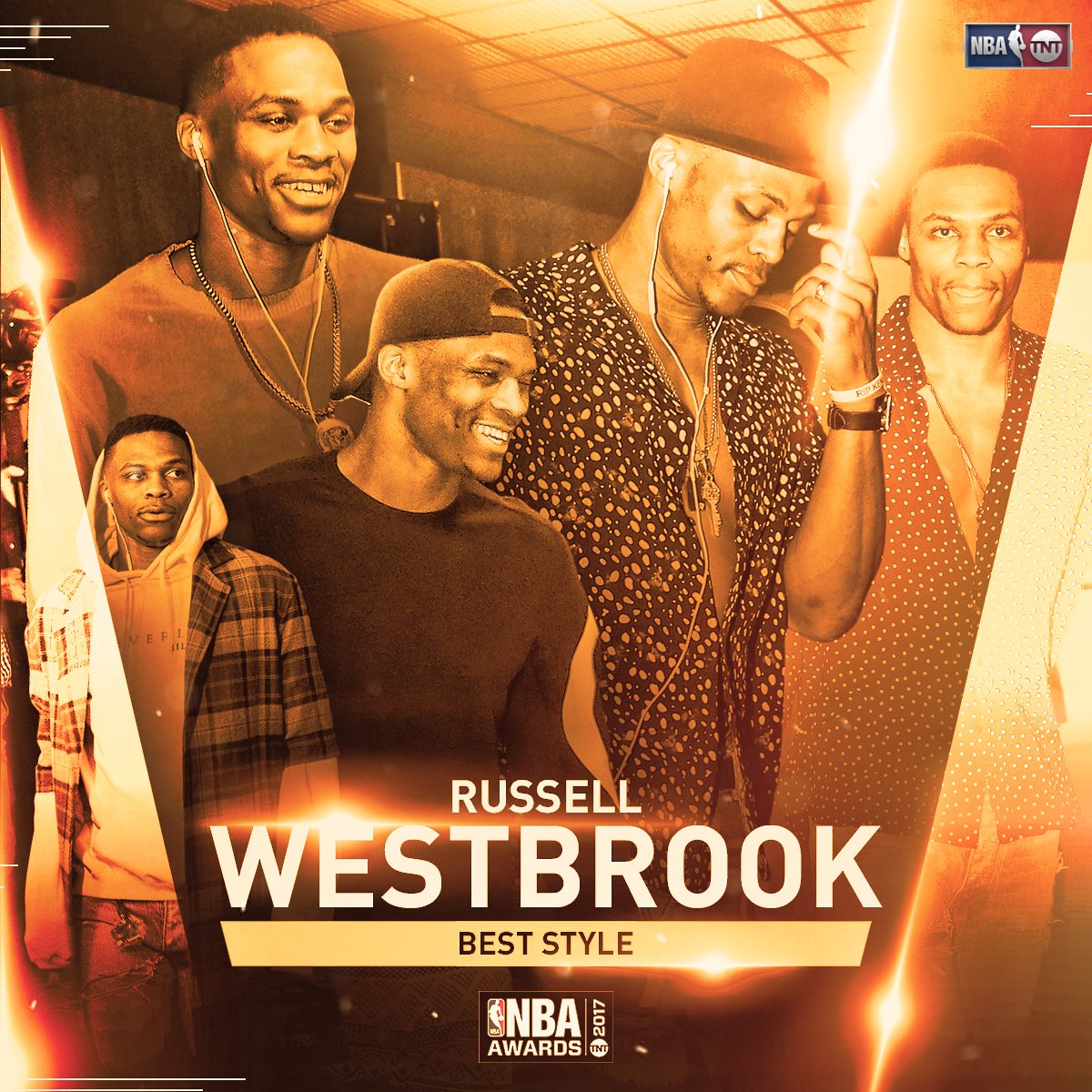 NBA Community Assist Award – Isaiah Thomas of Boston Celtics.
There were also some fan vote included and are as follows:
Assists of the Year – Stephen Curry/Draymond Green of Golden State Warriors
Block of the Year – Kawhi Leonard of San Antonio Spurs
Dunk of the Year – Victor Oladipo of Oklahoma City Thunder
Game-Winner of the Year – Russell Westbrook of Oklahoma City Thunder
Performance of the Year – Klay Thompson of Golden State Warriors
Playoff Moment – Kevin Durant of Golden State Warriors